Guest Post: DIY Repurposed Clock to Chalkboard
This post may contain affiliate links. If you purchase something through the link, I may receive a small commission at no extra charge to you.
Hey y'all!  Today I have Emily from Love, Pasta, and a Tool Belt joining us and sharing one of her projects, a DIY Repurposed Clock to Chalkboard!  I just love Emily and her blog and I am so excited that we're swapping crafts on each others blogs today!  Let's check out what she made.
**********
Hi Everyone! I am so excited to be here sharing my repurposed project and blog swapping with Teresa. I'm Emily and I blog at Love, Pasta and a Tool Belt. I love to share recipes, crafts, home decor and improvement projects and sometimes blog about my favorite TV shows. I hope you will hop over to my blog and check out the repurposed project that Teresa is sharing there today in our blog swap!
Today I am sharing my DIY Repurposed Clock to Chalkboard. We had this really pretty clock hanging in our kitchen but when we moved and hung it up it was no longer working. I knew there had to be something I could do with this clock. So it sat around for awhile then I finally had the idea to try out some chalkboard paint. My husband had the very smart idea to also spray paint the outside so it would match our kitchen. I don't like writing on chalkboards so I decided to find a cute quote to put on the
chalkboard.
Supplies:
– 1 can Valspar spray paint
– 1 can chalkboard paint
– Painters tape
– Paper
Here is what we started with, it was a beautiful clock but alas it was broken and forever stuck at 6:30.
Dolly just had to sneak into a picture!
We started by spray painting the entire clock in the yellow color that we chose for the outside frame. We decided to spray paint the whole clock first to make it a little easier. We then let the paint dry.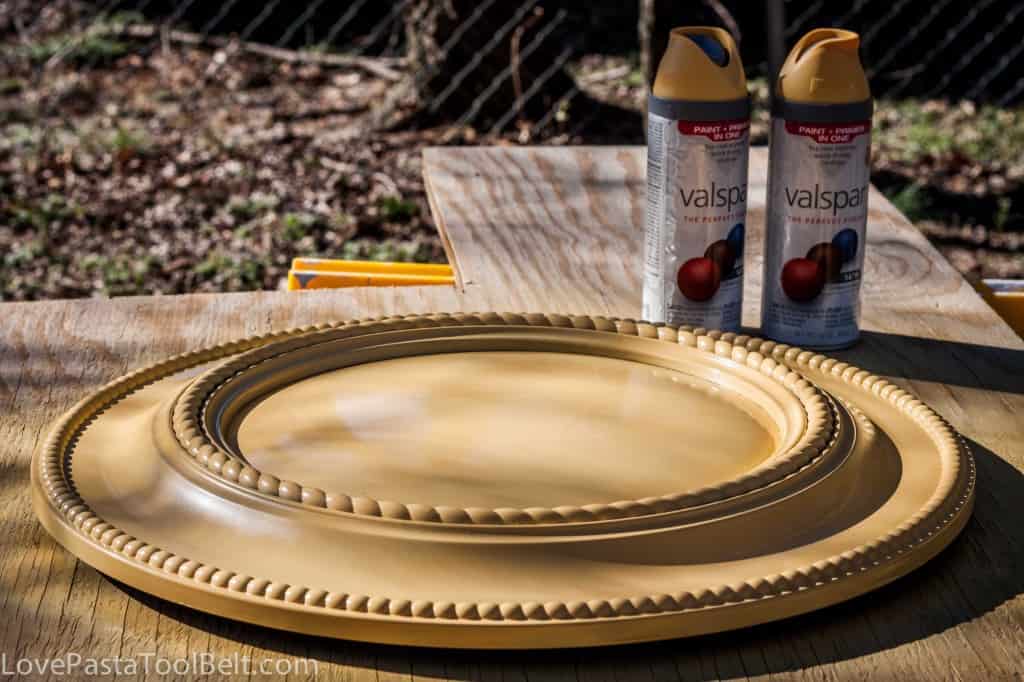 After the yellow spray paint dried we taped it up and covered the frame with paper. We then took the chalkboard paint and sprayed the middle to create the chalkboard surface
We let the chalkboard paint dry and then came back with paintbrushes to fix the spots where the paint had hit the wrong spots.
I wish that I had beautiful writing but I don't so for the writing on the chalkboard I researched a really great method from Indie Craft Parade. It turned out better than my own writing so I was happy.
I love the quote that we put on it and it's going to hang in our kitchen right beside the fridge as a great reminder. I hope you will hop over to my blog and check out my other DIY projects. I've discovered spray paint can work miracles on old or broken pieces.
**********
I love it!  Emily did such a great job with her repurpose project and I am so excited that she shared it with us!  Thank you Emily!
I hope you'll head over to Emily's blog and check it out.  She is one talented lady!  Check out these other posts of hers that I can't get enough of:
To see more of Emily's projects, recipes, home improvement projects, and more you can follow her here:
Facebook | Google+ | Pinterest | Twitter
And don't forget to head on over to Emily's blog and say hello!
Do you have any fun repurposed projects you've tackled lately?