DIY Hocus Pocus Halloween Popcorn Bags
This post may contain affiliate links. If you purchase something through the link, I may receive a small commission at no extra charge to you.
Fill these Halloween Popcorn Bags with your favorite sweets for a spooky and delicious movie marathon treat on Halloween night!
It's Halloween time y'all and that means it's time to stalk the candy aisle at Target on a weekly basis. I'm a sucker for anything salty and sweet, and there is nothing better than sitting down in the evening with a big bag of candy in my lap and Hocus Pocus on in the background. Because what is Halloween without the Sanderson sisters?
Chris and I have movie nights every Friday once the cooler weather comes in and my favorite part of those nights is picking a sweet treat that'll go with whatever movie we're watching. This year I decided to mix up some of my favorite Halloween candy in a big bowl of popcorn, and make my own Halloween Popcorn Bags to enjoy it in. Because, why not?
To be honest, I'm not a huge fan of scary movies so Hocus Pocus is right up my alley. Just a little bit of spook and a whole lot of laughs! And nothing goes better with a movie like that than a popcorn bags full of tricks and treats!
Personally, I love little treats that can be customized depending on your mood or what you're doing! While I made the Halloween popcorn bags to go with Hocus Pocus, you could decorate them with ghosts, pumpkins, or whatever else you want! You could even grab some decorations and let your kids go to town. Creating the Halloween popcorn bags is half the fun!
How to make your own popcorn bags
Materials:
Various Cardstock Colors
Hot Glue Gun
Washi Tape
Wax Paper
Mini Popcorn Design (bought in the Silhouette Store)
1. Cut out your popcorn bags in the Silhouette Studio and assemble them. Use hot glue to glue the bottom and sides together.
PRO TIP: Gorilla glue and double sided tape do not work on glittered paper! You must use hot glue to attach the bottoms and sides!
2. Cut out 1 inch circles and Silhouettes of the Sanderson sisters (or pumpkins, ghosts, or whatever else you're going to use). Use hot glue to attach the silhouettes to the circles. Set them aside.
3. I used lace washi tape to go around the four sides of the Halloween popcorn bags and then attached my circles and silhouettes from the previous step to the tape. I actually was able to use double sided tape for this step, and the paper stuck to the tape!
4. At this point I cut out a large piece of wax paper and put it inside the containers. It doesn't have to be perfect, it just had to cover the sides and bottom of the container. Glitter gets everywhere y'all, and I just didn't want it in my popcorn!
For the popcorn I used a mix of salty and sweet. Buttery popcorn (my favorite), candy corn and pumpkins, pretzel sticks, and marshmallows filled the popcorn bags to the rim, and it was the perfect combination for me! My bag of treats did not last long at all.
These Halloween Popcorn Bags were so easy to make and add a bit of fun to a Halloween-themed movie night!
How would you customize your own Halloween Popcorn Bags?
Don't leave without checking out these Halloween posts!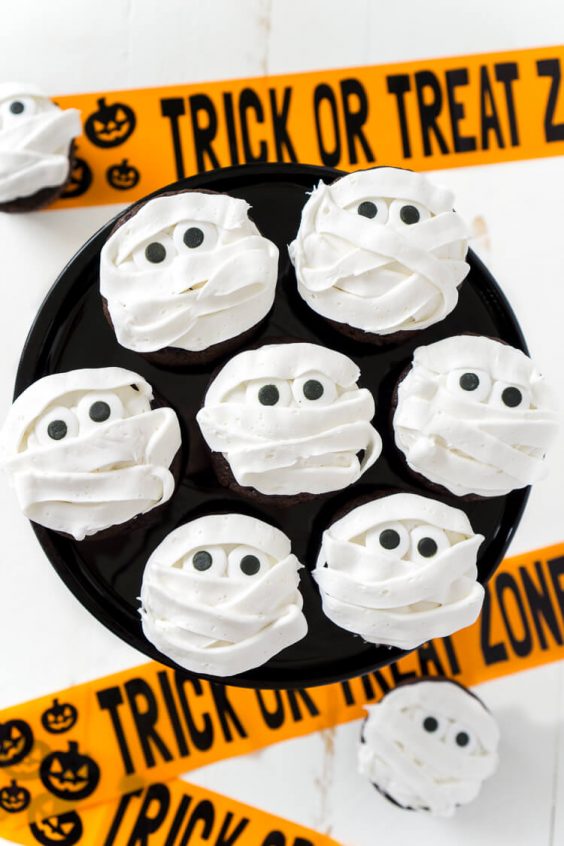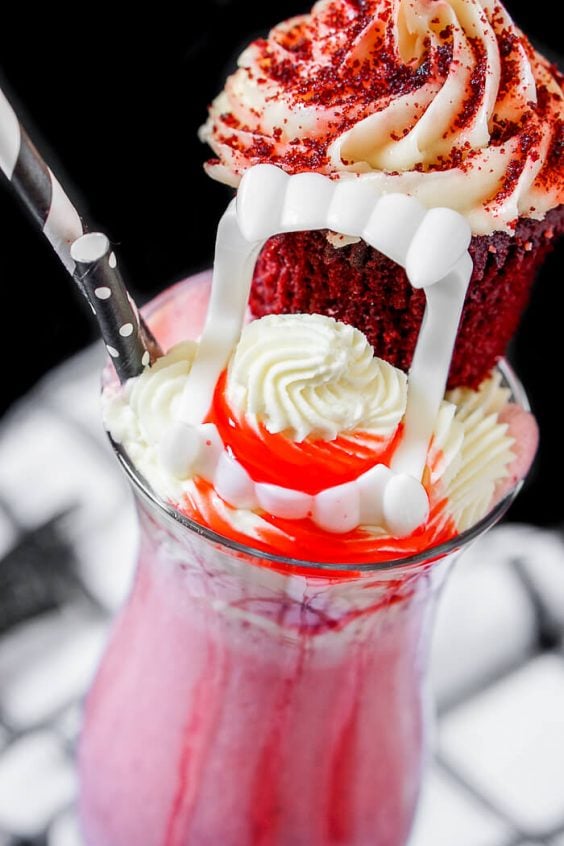 Dracula's Bloody Red Velvet Milkshake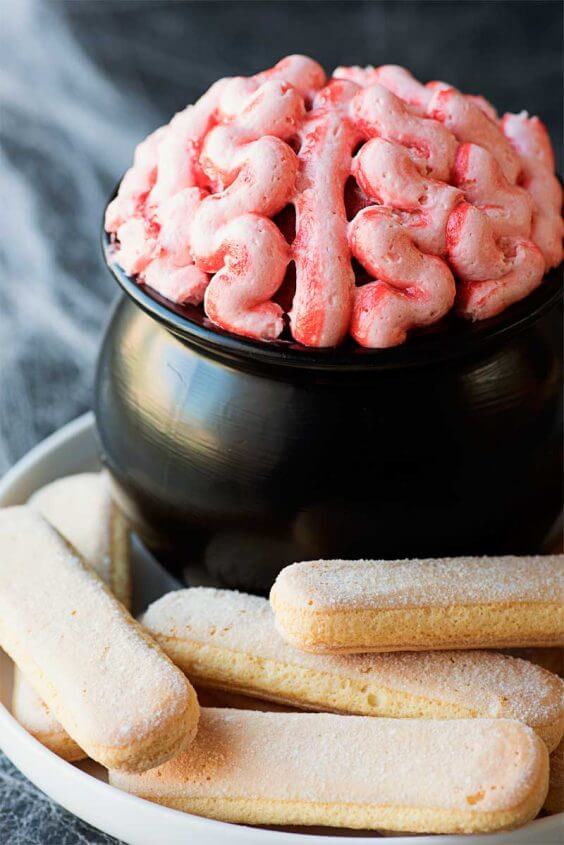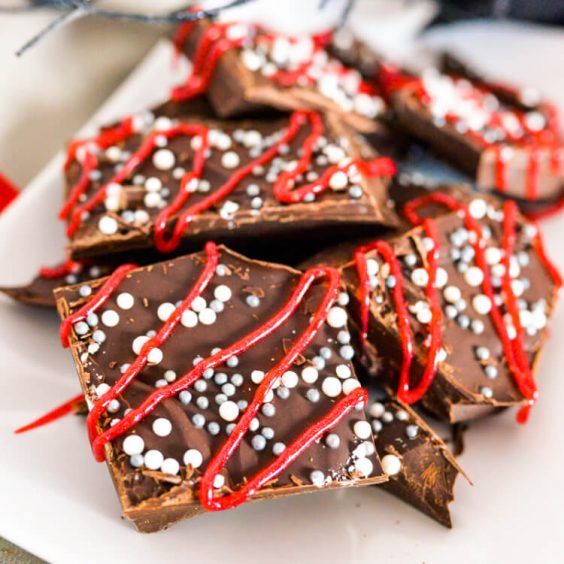 Dark Chocolate Espresso Dracula Bark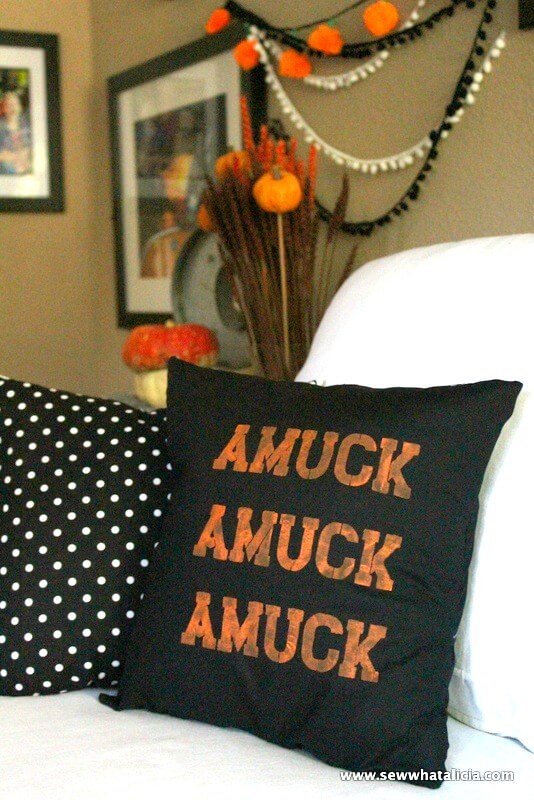 Hocus Pocus Stencil Throw Pillow