DIY Instagram Memory Frame
This post may contain affiliate links. If you purchase something through the link, I may receive a small commission at no extra charge to you.
Hello Crafty Wife readers, Emily from Love, Pasta and a Tool Belt here! I am so excited to be sharing my DIY Instagram Memory Frame with you all! Teresa is one of my best bloggy friends and I'm happy to be able to share a post with you guys while she takes a little break to enjoy her growing family!
Do you ever start a project with a plan in mind and then end up with a completely different project. This is what happened to me here. I saw this frame/art at a home decor store and thought hey I could make this myself. So what I originally set out to create was not this, but I love this DIY Instagram Memory Frame so much more.
My husband is a photographer but most of what he shoots are landscapes and buildings. So most of the photos we have of us and our family are taken on our phones then most likely uploaded to Instagram. I had never printed any of my Instagram photos before, but when my project changed courses, I decided that it would be great with some Instagram photos printed out for it!
Supplies: 
-Collage frame with five openings
-Linen scrapbook paper
-bulldog clips
-Hot glue gun
-Map Scrapbook Paper
-Black paint
Directions:
1. Start out my removing your mat and glass from the frame
2. Cut your linen scrapbook paper to size to fit in the mat openings
3. Hot glue your linen paper down to the cardboard backing
4. Hot glue your bulldog clips to all of the linen pages except the middle one
5. Paint the middle opening black with a sponge brush, cover the entire opening
6. Now for this step you can do what works with what you have. I used my silhouette to cut out the words "Collect Memories not things" then used the paper with the words cut out and glued it over the black painted linen. If you don't have a silhouette then you could print the words onto your scrapbook paper.
7. Secure the mat to the cardboard backer with a little hot glue and place it back into the frame.
8. Pick out your Instagram photos and clip them in with the bulldog clips
What I love about this frame is that because you leave out the glass you can easily switch out the photos anytime you want to update it. One of my husband and my new plans is instead of giving each other gifts, to have experiences. For my birthday we headed to the mountains and it was so much fun and so much better than a present.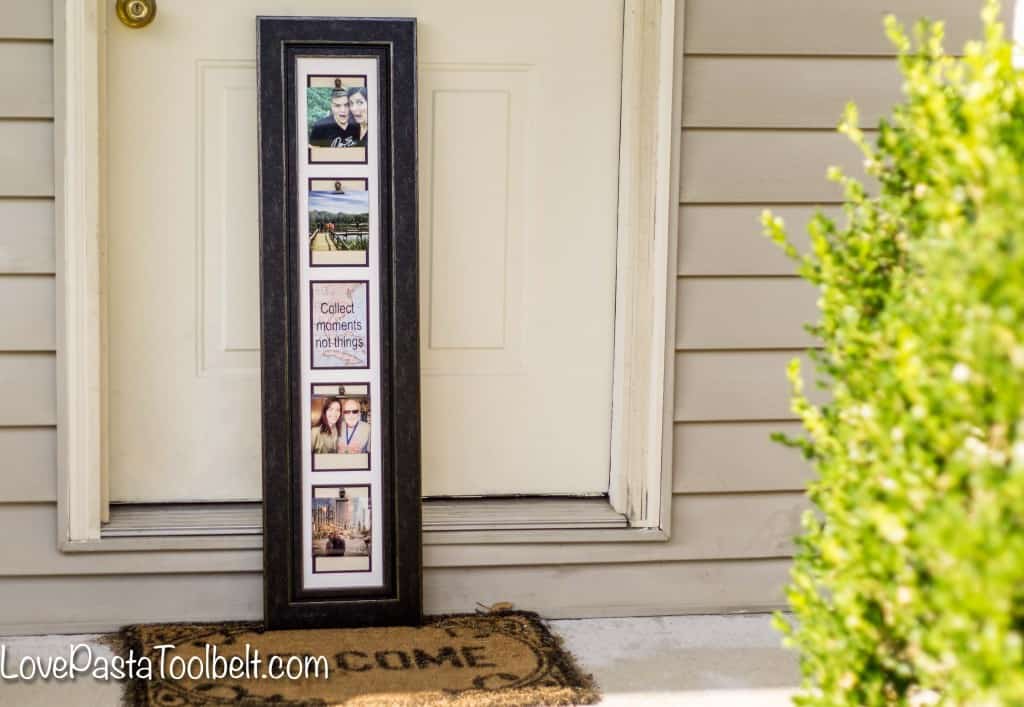 Have you ever printed out Instagram photos or made a cute way to display them? I'm excited to hang this in our bonus room which we are currently decorating with a bit of a travel/Tennessee Vols theme. Let me add that the Vols theme is for my husband since technically it's his man cave.
Come visit me over at Love, Pasta and a Tool Belt and check out some of my favorite posts!
Or visit me on Facebook | Pinterest | Twitter | Instagram |
Kitchen Reveal: Before and After