Keeping Yourself Accountable After Having a Baby
This post may contain affiliate links. If you purchase something through the link, I may receive a small commission at no extra charge to you.
I knew that once the baby got here things would be different. I was (somewhat) prepared for the sleepless nights, the on-demand eating schedule, and the fact that the days were no longer going to be mine. But what I wasn't prepared for AT ALL was that I wasn't going to able to somewhat keep my cleaning/shopping schedule anymore. And that keeping myself accountable to keep up with those things was going to be near impossible. To be honest, even six months after having him I'm still finding that part hard.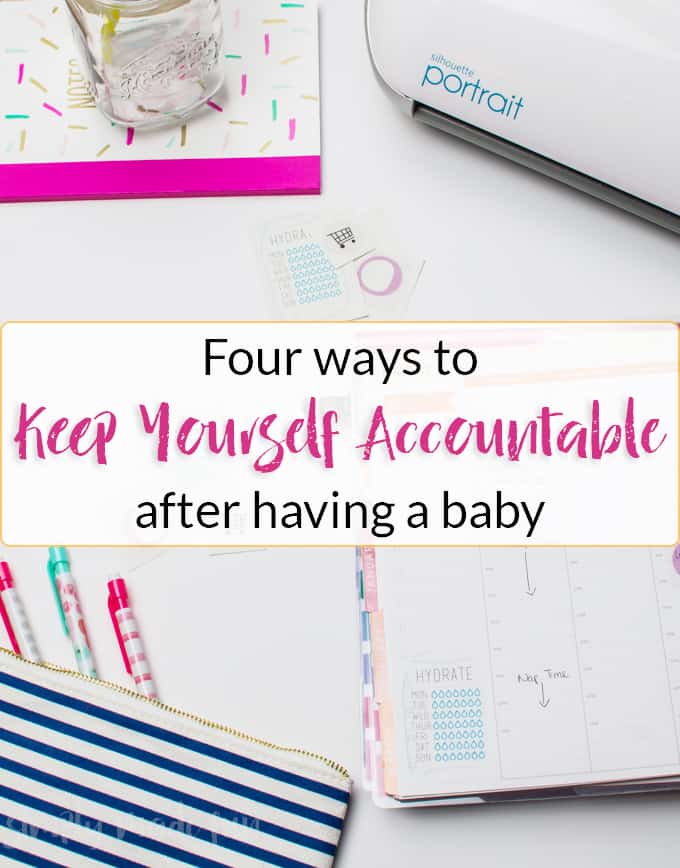 I had no idea what a luxury it was to get up and go to the store any time I needed to when I was pregnant. Or how easy it was to get in and out of a store without a baby in tow. No amount of advice from other parents could have prepared me for how difficult it would be once my baby was here.
Four Ways for Keeping Yourself Accountable:
Make a schedule – This has been key for me lately in order to get things done. Mostly I try to schedule my days out on the weekends, because Chris is home and can watch our little man so that I am able to go out and go shopping if I need to (mostly grocery shopping and laundry gets done on these days!). But on the days where I know I have to go out because of doctor appointments and such, it's much easier to do when I have a schedule!
But I also realize that a baby dictates the schedule, so sometimes I have to deviate from the plan a bit. And that's okay!
Ask for help – I hate admitting that I need help, but having a baby has shoved me head first into this harsh reality: I cannot do this on my own. I just can't. The housework, keeping the kid happy and healthy, keeping MYSELF happy and healthy….it's a team effort. They say raising a child takes a village, and I finally understand that sentiment! Lately I've been asking Chris to help me out even more, and he has stepped up in a big way. When he comes into the room and grabs the little guy from me, it gives me the opportunity to go and do all the things I've put off during the week. It truly is a huge help!
Write it down  –  Am I the only one who does better when I write down my intentions for the day? If I can get my butt out of bed before the baby wakes up, I like to sit down with my cup of coffee and write down what I need and want to do that day. Sometimes it's as simple as saying I'll do the dirty dishes during nap time. Other times it's a small list of quick cleaning projects to do in thirty minutes. Writing down what I need to do that day makes me more motivated to get it done. Even if I'm still wearing my pj's while doing it!
Use a Planner  –  For this year I finally broke down and bought the Erin Condren Hourly Life Planner because of all the doctors appointments our child has and it has been great to keep track of it all. I'm usually pretty terrible about using planners to keep track of all the things I have to do, but this planner is keeping me honest. My favorite ways to keep myself accountable in my planner are to use stickers. Chore stickers, health stickers, whatever floats my boat! And do you know that I finally figured out how to make stickers with my Silhouette? And it's actually super easy!
This post contains affiliate links. Please read my disclosure page for more information!
If you want to make your own stickers, here's how:
Materials  –
Sticker Paper (I used Avery but the Silhouette brand will do fine too!)
Printer
Download the Sticker Files here!
First, Make your design (I made my grocery stickers in photoshop and brought it into the Silhouette Design Studio), select it, and click "no cut".
Then, add another shape that's a tad bit bigger around your design and click "cut edge".
Next click Registration Marks and under style select Type 1.  This will tell your Silhouette where the edge of your paper is!
After that click on the Replicate tab and select Fill Page.  Now you're ready to send the images to your printer!
Once your image is printed onto your paper, load the paper into your Silhouette.
When you're loading the paper into your Silhouette you have to make sure you're doing it right.  If you don't your stickers will not get cut right!  So…here's how you do it:
1.  Make sure your paper is properly lined up with the top line of your Silhouette mat.
2.  On your Silhouette there are three lines by the blade.  Your mat must be lined up with the second line.  As shown here:
Now, in your Silhouette Design Studio click the Registration Marks Window.  Click default and then head over to your Cut Settings.
Select the White Sticker Paper under materials, make sure your blade is on the correct setting, and then click Send to Silhouette.
Your Silhouette will first make sure it can read your registration marks and then (if it can) will go on to cut your stickers.  When it's done you should get the perfect kiss cut!
My stickers cut perfectly the first time and I am super excited about it!  Now that I've finally tested the print and cut method I know I'll have a lot more projects up my sleeves in the future!
Download the Sticker Files here!
No matter how you decide to keep yourself accountable after a baby, there is one thing we all need to understand: this takes time. Adjusting to your new normal is hard and downright exhausting. If your house isn't getting cleaned as often as before, it's okay. If the dirty dishes are piling up and you have to put them off for another day, don't worry about it. Your baby is only small for such a small period of time, enjoy it! The chores and endless amounts of laundry will always be there. Don't beat yourself up if things aren't perfect. When your routine becomes a little bit more normal, you'll slowly be able to hold yourself accountable again. Until then sit back, relax, and NAP. Because no matter what, naps never go out of style.