What You Need to Know About Disney World in the Spring
This post may contain affiliate links. If you purchase something through the link, I may receive a small commission at no extra charge to you.
Disney's Flower & Garden Festival is officially underway, and with it comes some of the best parts about visiting Disney World in the Spring!  While Summer is always too hot for me and Winter can be crowded and is a bit of a bummer when the sun goes down early, Spring always seems to be just right.  The days are starting to get longer, the weather is warming up, and everything is in bloom.  And like everything else, those things tend to be so much more magical at Disney World!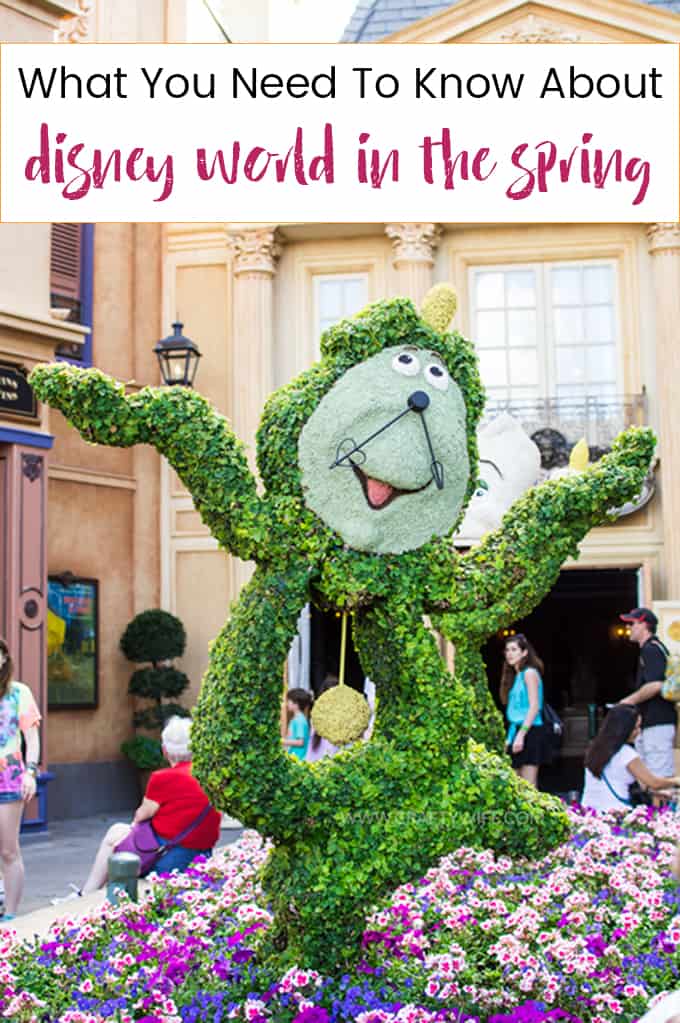 Chris and I were talking the other day about when we want to head to the parks, and I suggested soon because I really want to visit Epcot for the Flower & Garden Festival!  I love all of the topiary's, the food stands, and the entertainment the park offers during this time, and I really can't wait to go back and visit it.  And to also take the little one so he can experience it as well!
But with the longer days, the special events, and the amazing weather comes a few other things.  Things you may not think of when planning a trip around this time.  So I'm going to fill you in on all you need to know about visiting Disney World in the Spring!
Certain Weeks Can Be Expensive.
Yep, that's right!  Spring Break and Easter bring expensive resort stays and crowds to the parks.  The weather is usually beautiful and with everyone on break from school what else is there to do but head to Disney for a few days?  If you can avoid visiting Disney World during those weeks then your trip will be way more enjoyable!
Epcot's Flower & Garden Festival is back!
I love Epcot's Flower & Garden Festival!  They have special food and drink booths around World Showcase with loads of yummy goodies as well as topiaries of all your favorite Disney characters!  Epcot in bloom is my absolute favorite time to go, I love all the colors and new life Spring brings to the park!
The Weather Can Be Unpredictable.
While there tends to be a lot of rain in April (April showers do bring May flowers!), it usually consists of a quick afternoon rainstorm that doesn't last more than half an hour!  Chris and I usually love those rainstorms because it will cool things off for the rest of the afternoon.  Of course, there may also be days of rain as well (it is Spring after all!), but Chris and I tend to love those days too!  Most people stay away from the parks when it rains, but we usually throw on our ponchos and head out to the parks.  While the outdoor rides will be closed (especially during a storm), you can still go to the shows and the indoor rides!  And if you're in the Magic Kingdom you may even be lucky enough to catch the Rainy Day Parade!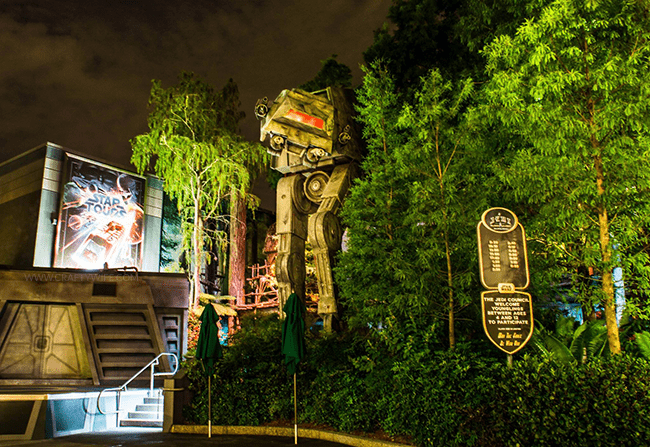 You Can Celebrate Star Wars Day at Hollywood Studios!
While this isn't an official event at Hollywood Studios, it is a lot of fun to just go and do all the Star Wars stuff at the park!  Inside the Launch Bay you can meet and get autographs from Kylo Ren and Chewy and see some of the costumes and other Star Wars memorabilia.  You will also be able to pick up special merchandise inside the park and, of course, ride Star Tours a billion and one times!
For these reasons and so many more, this is why I love visiting Disney World in the Spring!  Tell me, what is your favorite season to visit the parks?
More Disney Posts
[pt_view id="a463ab0o3j"]