DIY Magical Harry Potter Ornaments
This post may contain affiliate links. If you purchase something through the link, I may receive a small commission at no extra charge to you.
Learn how to place a large adhesive vinyl decal on a Harry Potter ornament using M&M style Christmas bulbs from Hobby Lobby!
Post was updated on November 12, 2021
Have you ever tried to put a large adhesive vinyl decal on a round Christmas ornament and had trouble with the vinyl folding or creating bubbles?
This happens when your vinyl decal is too large. You'll quickly find out that you can't easily lay a large decal on a round ornament, and it can cause lots of frustration and wasted vinyl.
But you know what does work? Flat ornaments (also knows as M&M style Christmas bulbs).
I knew I wanted to put the logo for the Magical Congress from Fantastic Beasts and Where to Find Them on a Christmas ornament for my Harry Potter tree, but a round ornament wouldn't work!
That's why I used an M&M Christmas bulb to make these Harry Potter ornaments!
I decided to do a whole collection of Harry Potter ornaments for our tree, some of them were made of paper and others were made with bulbs.
For this project I used bulbs, both flat (m&m style) and round.
For the flat ornament I chose to coat the inside with glitter like I did for these Christmas ornaments. Inside the round ornaments I cut strands of glitter paper and curled them with scissors to put inside the ornaments.
To hang them on the tree I cut ribbon and thread it through the top of the bulb and then tied it in a knot. You can't see the knot once you hang it on a tree branch, so it worked out perfectly!
Materials
To make this project you'll need:
Flat and Round Christmas Ornaments
Glitter
Polycrylic
Transfer Tape
Glitter Paper
Silhouette Cameo 4 Autoblade
The hardest part about making these Harry Potter ornaments was trying to get the vinyl to stick to the surface. I didn't want to use a perfectly round ball ornament because this design is big and has multiple layers.
And trying to put a large design on a round ornament is tough. So I went with a flat M&M ornament to make it a little easier on me!
Tips on how to lay a large design on these Harry Potter ornaments!
1. Why do you need to use flat M&M ornaments for this project?
I really love M&M ornaments because they're flat and you don't have to worry about applying vinyl to a round surface. If you're new to vinyl decals I would highly suggest using a flat surface to start out with. Then you can get the hang of applying large decals to different types of surfaces.
2. How large do you make the vinyl decals?
It really depends on how large your ornaments are but I like to leave at least a little bit of white space around the edges.
If you're using a round ornament I like to keep the ornaments between 1.5 inches tall and about 1 inch wide. But it really depends on what you're comfortable with!
3. What happens when you lay your vinyl decal on the ornaments and you get bubbles?
If this happens to you (and it happens to all of us!) grab a hair dryer and apply heat. It loosens the glue a bit so you can easily rub out the bubbles.
Just go slowly and be gentle!
You can also go to this post to see how we layered vinyl decals on a round ornament with the dry hinge method — this prevents bubbles and creases!
4. What type of transfer tape would you suggest for this project?
I have a few thoughts on this so bare with me!
I always love using grid transfer tape but I really think that would be too sticky for these Harry Potter ornaments! If you're having trouble getting your vinyl to stick to your ornaments, it might be your transfer tape that's causing the issue.
If you're having issues try switching to paper transfer tape. For some reason this works better on certain projects so I would try it for this if you're having trouble.
5. What vinyl do you use for these Harry Potter ornaments?
Oracle 651 vinyl is what you should use!
Unless you want to reuse the ornaments next year and put a different design on them you should always use permanent vinyl.
Since my favorite part of the movie was getting to see the inside of the Magical Congress (the American version of the Ministry of Magic), I decided to make the logo into an ornament.
It was super tough but worth it! And of course, I also had to make some Ilvermorny ornaments to go with it.
If you have issues with losing tiny details in your design when weeding, check out this post that gives you tips on how to cut and weed small pieces of vinyl!
More Harry Potter crafts on the blog!
Let's make our own Magical Harry Potter Ornaments!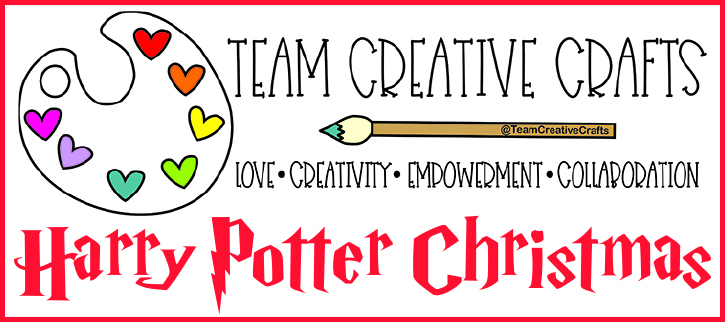 a Rafflecopter giveaway